Can you spot the words or do you think there is a bluff? Your ability to do that will improve quickly with a few games under your belt.

Remember an asterisk or a tile flipped on a Turn-To-Wild square can represent one or more letters and is never fixed in either direction or from play to play. A player need only explain the use of an asterisk or flipped tile if challenged. The board, of course, does not show plays that were challenged successfully. It also does not show what tiles were placed on Turn-To-Wild squares. Much thought is typically devoted to using those squares productively. The board is the tip of the iceberg.

These games were played between my brother and myself over the Internet when I first developed the game. Our percentage of 7-tile plays is now about 70.

I used to put a nice example game played with the real board on the front page, but it always had a sense of discipline and orderliness that a real game rarely has. Parts of a WildWords board can descend into chaos now and then. Managing that chaos is part of the fun.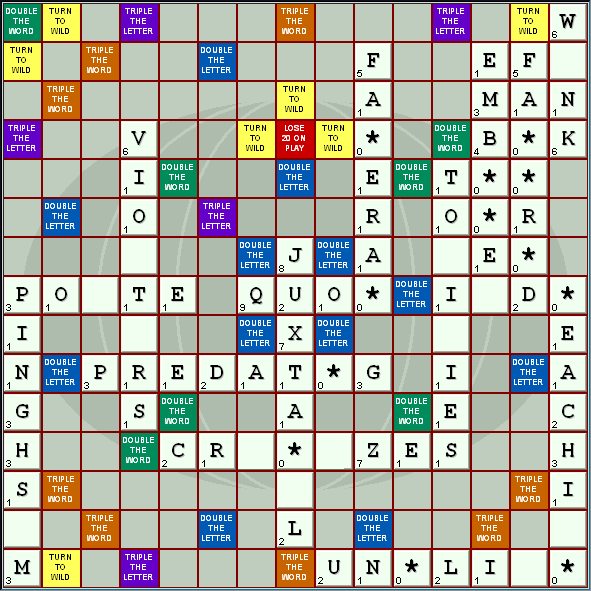 Some of the words as reported by their players after the game:

JUXTAPOSITIONAL, CRITICIZES, EMBELLISHED, TONALITIES, FALDERAL (player would have misspelled it if challenged)

Note: PINGHS*M was the last play of the game and did not change the outcome, thus courtesy requires no challenge and no questions asked. At least, my brother and I respect that rule.






Some of the words as reported by their players after the game:

TUTORIAL, DETERMINEDLY, ENGAGINGLY, TEAMSTERS, CURATORIAL, F*I*ONI*S (player had no explanation)






Some of the words as reported by their players after the game:

ALACRITY, STRINGENTLY, INDICIA, UNFURLING, POLTERGEIST, EMACIATIONS, BESEECHING, XYLOPHONE, OF**ACE (player had no explanation)

POLTERGEIST drew a failed challenge. Opponent thought POULTRY had been misspelled.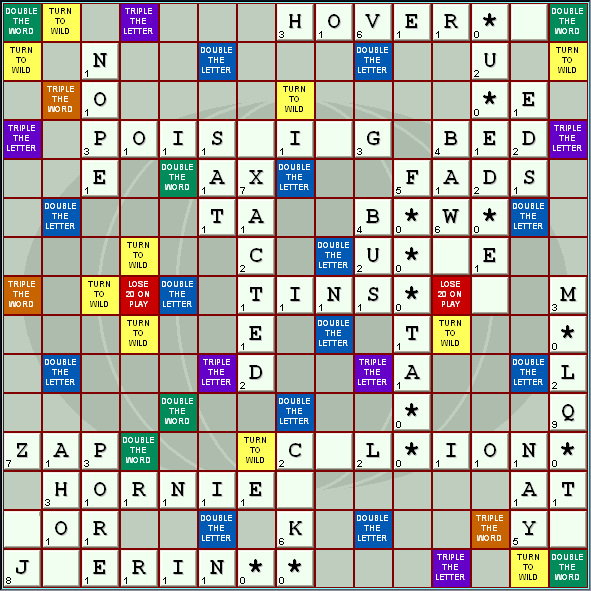 Strategy: One player in this game was about 120 points behind with few tiles to go. He played NAY for thirty some points keeping his asterisk for the last play and hoping to go out. He ended up with HYOEVR* for the final play. Alas, using the last seven minutes on the clock, he played HOVERING (upper left and using a Turn To Wild Square with the Y). But what was *U*ED*E*? The original play of U*ED*E* was UNEDUCATED. After figuring out that the word probably had to end in LESS or NESS, he found ROUNDEDNESS, made the play, and won the game. The words on the board are always changing from play to play in WildWords.
M*LQ*T* was MILQUETOAST (I challenged and lost my turn).
J*ERIN** was JEERINGLY.